Adoption of ISO 9001:2015 Quality Management System (QMS)
Activities of Support Unit for Quality Management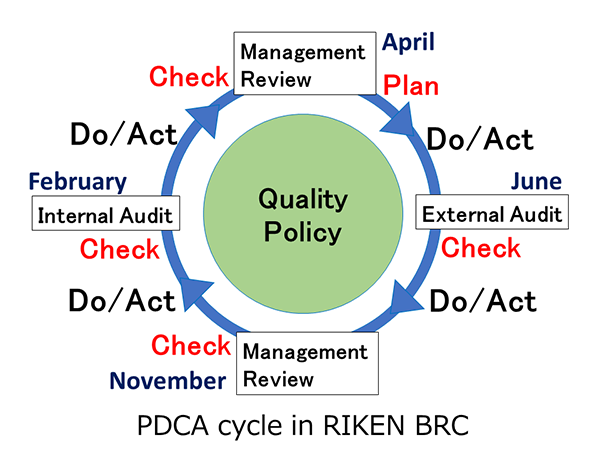 The role of the secretariat is essential for the acquisition of certification and the smooth operation of ISO 9001. Therefore, the BioResource Quality Management Support Unit was established in 2006 to support the acquisition, maintenance, and operation of certification.
The Unit plans and promotes external audits, which are essential for maintaining and renewing certification, and internal audits and management reviews to check the operation of the management system. To raise awareness of quality control. The Unit works the encouragement of participation in internal audits and provides support for the acquisition of qualifications and training and raising awareness of quality control in cooperation with all Divisions and Teams in RIKEN BRC, the Tsukuba Administrative Division, and the BioResource Research Center Promotion Office in addition to the Cell Engineering Division and Microbe Division, which are ISO 9001 certified.
Through these activities, RIKEN BRC will achieve the world's highest level of quality of bioresources by implementing the PDCA cycle (see figure) and contribute to the sustainable development of life science and human society.