20th Anniversary of RIKEN BioResource Research Center
20 years of RIKEN BRC and the future
20 years of RIKEN BRC and the future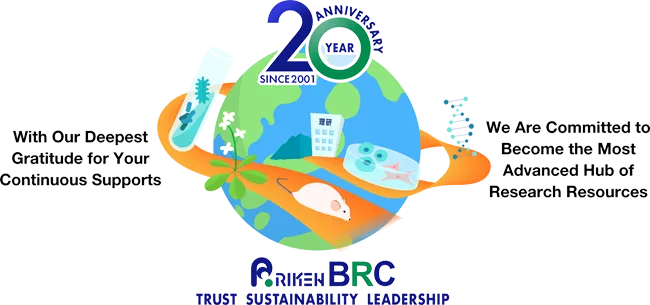 Greetings from the Director
Celebrating the 20th anniversary of foundation of RIKEN BRC: with our deepest gratitude for your continuous supports, we are committed to become the most advanced hub of research resources.
RIKEN BioResource Research Center
Director, Toshihiko Shiroishi, Ph.D.
In 2021, RIKEN BioResource Research Center (BRC) celebrates its 20th anniversary. Since its foundation, the Center has collected and maintained cutting-edge, high-quality bioresources, and has provided over 13,000 universities, research institutions and companies in Japan and abroad with more than 270,000 bioresources, based on the principles of "Trust," "Sustainability," and "Leadership". This activity has made the RIKEN BRC widely recognized around the world as an indispensable hub of research infrastructure for life science and innovation. We would like to express our sincere gratitude to all depositors/donators and users of the bioresource and all related parties for their deep understanding and warm support during the long-term activities of the RIKEN BRC.
In the future, we will further enhance development of value-added information such as genome sequence and phenotype of the bioresources and technologies and methodologies for utilizing the bioresources, and we will develop activities that comprehensively support research in Japan and overseas. In addition, taking advantage of the Center's unique feature to handle multiple bioresources from genetic materials to individuals in the same campus, we will construct a research platform to challenge subjects of important life science with the multiple bioresources. In this way, the RIKEN BRC intends to push forward as a state-of-the-art hub institution that collectively provides not only tangible bioresources but also information and technologies to utilize them.
On the occasion of its 20th anniversary, with our deepest gratitude for the support of everyone so far, and in order to look back on the past activities and apply them in future projects and the research and development, the RIKEN BRC has organized variety of events to commemorate its 20th anniversary, including an anniversary ceremony, a public symposium, and publication of a commemorative book. We would like to take this opportunity to further deepen communication with developers and users of the bioresources, as well as many people who are interested in life science and innovation. The anniversary ceremony and the public symposium will be held online due to the COVID-19 outbreak, but we hope that many of you will participate in the events and give us your feedbacks on our service and research and development. We would like to reflect them in the future activities of the RIKEN BRC. Finally, your continued understanding and support for the RIKEN BRC will be highly appreciated.
Events
Commemorative book (in Japanese)
The commemorative book written in Japanese was published to commemorate the 20th anniversary of the foundation.